In this article, we are going to guide you on How To Disable Onstar GPS Tracking Device.
A GS tracker has many benefits if you place it as per your consent. A tracker can secure your vehicle no matter what happens. If you have a business vehicle and don't want to get trapped by your rivals then having a tracker is a must.
If you do a business of delivering items to people then having a tracker is a must. You need to track the movement of your delivery guy to ensure the on-time delivery of objects and avoid corruption.
What Is An OnStar GPS Tracker?
Advanced GM vehicles feature an OnStar GPS tracker that is pre-installed. OnStar helps users to get turn-by-turn instructions to get to their destination.
If OnStar is attached to your vehicle you can make hands-free phone calls because it helps the car to reach its destination by giving instructions. You can also have access to emergency crash response and stolen vehicle assistance with the help of an OnStar GPS tracking device.
If you don't remember your destination then you can ask for help through your tracking system. Moreover, if your vehicle gets into an accident then the tracker immediately sends an alert message to the panel. It sends your current location and helps to secure you by getting help.
It is a subscription-based GPS tracking system that helps users keep their tracking facilities in their own hands. You can disconnect the GPS tracker by canceling your subscription. If it is that simple then why do you need to disable or remove it?
Well, when you disconnect your tracker by canceling the subscription it still keeps tracking your location. The tracker does not send you signals but keeps your movement records secret.
That's why after canceling the subscription you still need to disable it by removing it from your car physically.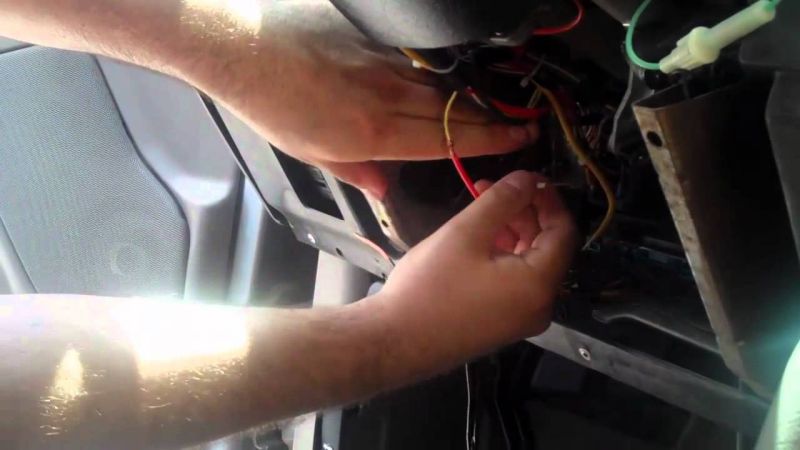 How To
How To Disable OnStar GPS Tracking?
First of all, you need to open the trunk and locate the protective cover that is keeping your spare tire in place. The plate is usually held by only one bolt. You need to remove the bolt with the help of your fingers. You can easily remove the bolt by twisting it in the anti-clockwise direction.
After opening the trunk you should remove the spare tire and the cover that is holding it. Set both of these objects aside in a safe place until you are done.
Now it's time to remove the plate that is behind the area of tire storage.
Now you can reveal the OnStar brain box by removing the fabric cover that is covering the spare tire panel. It is on the right side. The OnStar brain box is easily locatable. The OnStar tracker brain box is of solid black color with two wires running towards the car from the tracking device.
Take out your screwdriver and use it to disconnect the signal cables that are attaching the OnStar tracking device to your car.
Now it's time to secure the signal cable. You can take out the electrical tape and wrap the ends of signal cables because you are not using it in the future.
Now determine what you need to do to remove the brain box of the tracker from your vehicle. Because usually a brain box of the tracker is attached to the car with multiple screws.
After a detailed inspection, remove all the screws to take the tracker out of your trunk. Once you have removed all the screws, take the tracker out carefully.
Now adjust the place as it was before by replacing the plastic plate and putting the fabric cover back.
Now put your spare tire in the place where it was placed before. Then cover it with a protective cover.
Now you need to tighten the bolt that is holding your spare car tire in place. Take the bolt place it with your hand and tighten it with your fingers by twisting it in a clockwise direction. Your OnStar tracking device is disabled and unable to reveal your location anymore.
Why Tracker Needed
Why Do You Need A Tracker?
One may ask why you need a GPS tracker. If you want to remove or disable your GPS tracker then why did you just place it? Why GPS trackers are even manufactured? Well, these are some common questions asked by my fellows.
The answer is simple, necessity is the mother of invention. If one needed a GPS tracker then it was invented. One's need may create a problem for the other. That's the rule. Let's try to understand who needs a tracker.
Want To Spy On Your Partner?
If you think that your partner is cheating on you then you would need to spy on your partner. Hiring a private detector may be very costly. That's why people use a tracking system to catch their cheating partner.
It's a common thing in couples who are not faithful. A tracking system will update the location of the vehicle to their partner.
Want To Spy On Your Delivery Guy?
You run a business of delivering objects. You would ultimately need a vehicle with a tracking system to ensure on-time delivery. Some people used to complain about their delivery guys. A delivery person uses your vehicle for his matters and you get a bad review from your customers. That's very common.
Want To Secure A Car?
If you are a lender and give your vehicles for rent to people then you would need a strong tracking system in your vehicle. Your vehicle is at risk of getting theft or robbed. Also, you cannot trust your borrower blindly. So keeping your vehicle tracked is necessary.
Secure Your Vehicle
Your vehicle can be snathed in the middle of the road if you live in an unlucky country. Developing countries face such cases every day. If your vehicle has a strong tracking system you can locate it easily and with the help of the police, you can recover your car within 24 hours.
Parenting Issues
You are parents of teenagers who are not aware of the bitter reality of society. If you think your children are underage and can get involved in various illegal activities due to their bad company then you need a tracker. You need to keep an eye on your teenagers for the sake of their safety.