In this article, I will guide you on Invoxia GPS Tracker Review which is very useful for you. If you have kids, pets, or vehicles then you must keep a tracker. Why?
The answer is simple, to protect your belongings. You should keep a tracker to track your vehicle's location, find your pet's location, or track your kids coming from school. You can find a GPS tracker easily in the market just like Invoxia.
In the market, GPS trackers are available in bulk because of modern technology and manufacturing companies. There is a huge number of GPS trackers available in the market without costly cellular plans. These trackers are easy to use with their user-friendly interface.
Since there is a huge variety of trackers available in the market most of them are either too big or clunky and require a power supply to work. These trackers are available in costly cellular packages and plans. Some of these low-quality and cheap trackers even don't have a front-end App.
Invoxia GPS Tracker Review 
The Product
You have been scrolling down to find the best GPS tracker. Luckily you have landed on the right page. We are reviewing the Invoxia tracking system that is easy to use, and have an integrated SIM card along with a one-month subscription and 4-month exclusive battery life.
Invoxia offers you 4G LTE-M, Anti-theft & geofencing alert, and a proximity radar and ring. Invoxia is lightweight, compact, and discrete design making it easy to pack and track.
Sounds exciting? Let's explore more about Invoxia more.
Industrial Design Of Invoxia GPS Tracker Review
Invoxia is available in measurements of 105 x 27 x 9.5 mm and weighs 30 grams. Invoxia is manufactured with ABS plastic and black anodized aluminum. The Invoxia also features a leather strap for extra convenience.
The Invoxia is coupled with a 300mAH lithium-ion battery. The battery is rechargeable with the help of a USB charger. The battery can work in temperatures ranging from 32 °F to 140 °F.
The Invoxia is designed with a small and compact body that makes it easy to carry in a bag. You can even hook it under a vehicle because it is made with durable and reliable material.
Key Features Of Invoxia
Offers Standalone GPS tracking with unlimited boundary range.
Keep you updated about Journey history and alerts.
Equipped with exceptional battery life. It offers 4 months' battery life but it depends on how you use it.
No monthly fees (within the first or second year).
It is lightweight with a discrete design that makes it easy to use.
Features an Emergency button to avoid unwanted situations.
Comes with free iOS and Android Apps.
It is compatible with IFTTT
Performance 
The Invoxia offers high-end functionality for multiple objectives. You can use this tracker to track everything including cars, motorcycles, boats, snowmobiles, backpacks, luggage, kids, teens, and the elderly.
I hope you won't need to track your partner, but if you come across such a situation where tracking is necessary you can use it for that purpose too. You can locate your GPS tracker at any time by using the companion app.
The tracker also allows you to track each location of your target it has traveled by tracking the location history. Now you can connect your tracker to your favorite products and services. You can get this job done with the help of the IFTTT automation platform of the tracker.
By connecting your tracker to your services you can get alerts and notifications through SMS and emails. You can also use your tracker to control your home appliances. You can use the tracker to control your lights, music, and thermostat whenever you enter or leave your house.
The lithium-ion rechargeable battery can last from 15 days to 7 weeks after charging once. The battery timing may vary according to the location and frequency of alerts.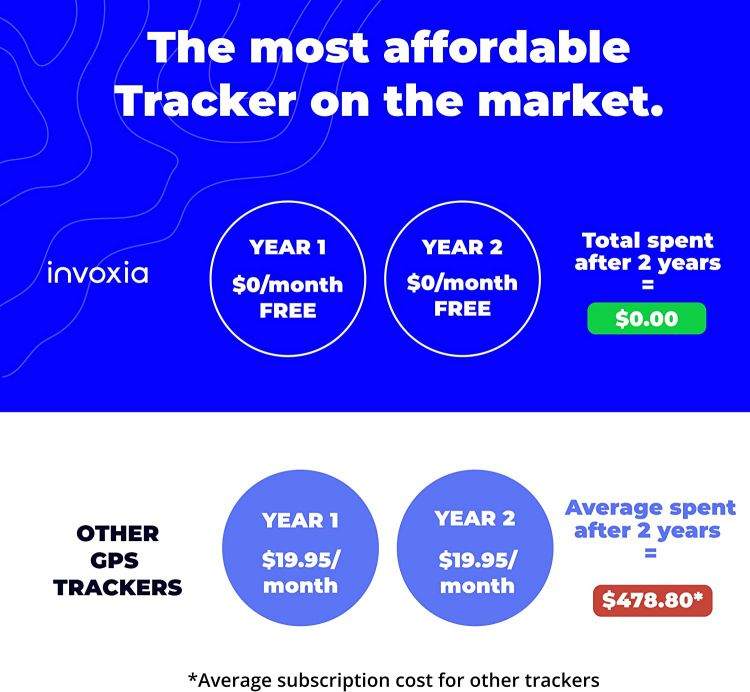 Invoxia Range 
When your target is moving, you get alerts about the location after every 5, 10, or 30 minutes. The Invoxia tracker also features a security feature for your vehicle that sends a theft alert when someone tries to steal your car.
The Invoxia GPS tracker allows you to draw a virtual fence around your target. Whenever your vehicle or target enters or leaves the designated area you get an alert.
The Geo-fence mode sets geographic regions that are ready for you when the tracker enters or leaves the assigned space. The closeness radar has a hot/cold component to make it simple to find during the last couple of feet.
Setup 
The Tracker setup is simple and easy to follow. You just need to attach the tracker to the power supply of the vehicle it will get turned on. After that turn on the Bluetooth option in your phone and bring it near the tracker.
Once the device is detected by the phone, you can connect it and give it a unique name.
After connecting the tracker to your phone, you can hide it under your vehicle. The reflector connects to the seat post with two or three hex fasteners, and joining it with the included hex key requires only a couple of moments. A third hex bolt permits you to eliminate the reflector and supplement the tracker.
It would be a little pain to remove the tracker for charging purposes. But the tracker features a strong battery that lasts almost a month. After one month you shouldn't be hesitating. It just takes 30 seconds to remove the tracker and fit it again.
Final Words
Final Thoughts 
You can buy the Invoxia with a 1 or long-term cell information plan that is as of now coordinated. No set-ups and bother-free. After the first or second year of assessment, you can choose if you need to fork out the $29.90 each year from there on.
This is quite possibly the least expensive arrangement I've seen. Effortlessly of purpose, I believe it merits each penny. Generally, the Invoxia GPS Tracker is perhaps the best tracker I've tried and investigated.
Its basic plan and friend application take into account simple and precise following cautions.